Cultural
Aboriginal and Torres Strait Islander People
The Rio Tinto Flying Boomerangs is a football development and leadership program. The participants are the best rising Indigenous talent in the nation and are given the opportunity to represent their country. Twenty-five of the most talented Indigenous players are selected from State run Kickstart Programs to participate in two residential camps. The participants are exposed to elite training environments and standards to assist their transition into the mainstream talent pathway. A core component of the program is to also strengthen their cultural identity.
The AFL is pleased to announce the 2019 Rio Tinto Flying Boomerangs and World Team squads set to play two exhibition matches in Melbourne next month.

Selected by NGA Managers and AFL Club recruiters, following a state talent program and talent identification camp, the respective squads of 25 young men have been chosen based on school attendance, leadership skills, and football ability.

Supported by Rio Tinto, the AFL Flying Boomerangs program is a personal development and leadership program for Aboriginal and Torres Strait Islander men aged 14-16 years old. Meanwhile the World Team is made up of the best upcoming AFL multicultural players from across the country.

The two squads will fly to Melbourne on July 7 for a week-long camp where they will undergo a number of cultural, education and football training sessions, before going head-to-head in two exhibition matches at Trevor Barker Oval on July 9 and July 12.

AFL General Manager Game Development, Andrew Dillon, said the Rio Tinto AFL Flying Boomerangs and World Team programs play an important role in the development of the next generation of AFL talent.

"The Rio Tinto AFL Flying Boomerangs and World Team programs are vital parts of the AFL talent pathway system and provides a great platform for the next wave of Aboriginal and Torres Strait Islander and Multicultural talent to develop not only their football skills, but leadership skills which they can take back to their local communities," Mr Dillon said.

"We've seen a number of elite AFL players come through these programs over the years and we look forward to witnessing the next stage of development for these players, coaches, and umpires when they arrive in Melbourne next month," Mr Dillon said.

Rio Tinto CEO Iron Ore, Chris Salisbury said, "Rio Tinto is proud of our partnership supporting the AFL's Indigenous programs, and our shared commitment to Indigenous people and communities right around Australia.

"The Rio Tinto Flying Boomerangs program offers a great opportunity for young Indigenous men to enter into an elite AFL pathway. Aboriginal and Torres Strait Islander people make up 10 per cent of AFL lists and 7.5 per cent of Rio Tinto's permanent workforce, a clear demonstration of our shared value and commitment to supporting Indigenous people and communities."

Rio Tinto is the principal partner to all the AFL's Indigenous Programs. Rio Tinto is one of Australia's largest employers of Indigenous people, employing some 1500 Aboriginal and Torres Strait men and women across the nation.

See below for a list of this year's Diversdity All Stars selection: 
 
                                         
Boomerangs Male Diversity All Stars Selection
Alwyn Davey
Jack Peris
Kaleb Baines
Isaac Keeler
Brandon Jackson-Martin
Callan Mckenzie
Nathaniel Keeler
Ryley Sanders
Domenic Hay
Darrnell Edwards
Tyrese Pomponio
Kydan Atkinson
Zach Dwyer
Teal Mckay
The Program Experience
Brendon Ah Chee, 2009 Boomerang participants, now playing for Port Adelaide FC:
Going into the Flying Boomerangs program I was a really shy kid from Perth who loved playing footy. It wasn't until the Boomerangs trip to Papa New Guinea that I learnt what it took to be a leader and what it meant to have a voice. It made me come out of my shell and taught me how to connect with other people in particular my Aboriginal brothers.
The program gave me a sense of pride as well. We were 22, 15 year old boys from all across the country representing Australia, AFL and our Aboriginal culture. We left a legacy in PNG. My Boomerangs team was the team that came up with the Indigenous war cry the AFL boys use today. It also made me more than ever want to be an AFL payer. I learnt so much on the program that helped prepare me for the life I live today.
The Program Experience
Sam Powell-Pepper 2014 Boomerang participant, now playing for Port Adelaide FC:
My experience in the Flying Boomerangs program was pretty wicked. It took me to places I never thought I would be even on my first overseas trip. The program more importantly was about the people you meet and the friends you made – what I learnt on the program was more about my culture and what it takes to be an AFL player. This was my first real eye opener to AFL level, learning about diet, time management and recovery, the program really prepared me and opened my eyes to what was to come.  Looking back now it was my favourite out of all my footy programs I have been on.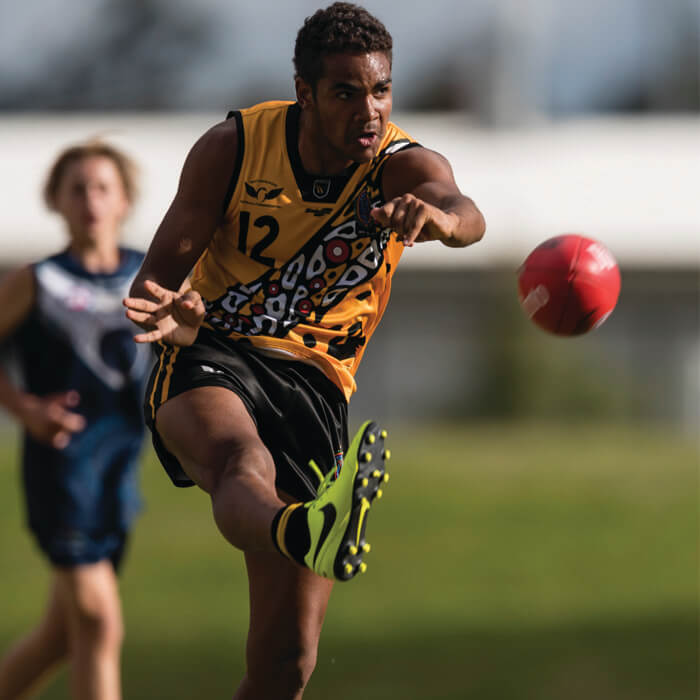 HOW CAN YOU BE INVOLVED?
The Flying Boomerangs program is our National AFL Male Indigenous program. Selection into this program is through State run Kickstart Programs.
To find our how to be involved in your state Kickstart team please contact your state AFL Indigenous Programs Manager.