Cultural
Aboriginal and Torres Strait Islander People
The Rio Tinto Flying Boomerangs is a football development and leadership program. The participants are the best rising Indigenous talent in the nation and are given the opportunity to represent their country. Twenty-five of the most talented Indigenous players are selected from the Kickstart Championships to participate in two residential camps. The participants are exposed to elite training environments and standards to assist their transition into the mainstream talent pathway. A core component of the program is to also strengthen their cultural identity.
The Program Experience
Brendon Ah Chee, 2009 Boomerang participants, now playing for Port Adelaide FC:
Going into the Flying Boomerangs program I was a really shy kid from Perth who loved playing footy. It wasn't until the Boomerangs trip to Papa New Guinea that I learnt what it took to be a leader and what it meant to have a voice. It made me come out of my shell and taught me how to connect with other people in particular my Aboriginal brothers.
The program gave me a sense of pride as well. We were 22, 15 year old boys from all across the country representing Australia, AFL and our Aboriginal culture. We left a legacy in PNG. My Boomerangs team was the team that came up with the Indigenous war cry the AFL boys use today. It also made me more than ever want to be an AFL payer. I learnt so much on the program that helped prepare me for the life I live today.
The Program Experience
Sam Powell-Pepper 2014 Boomerang participant, now playing for Port Adelaide FC:
My experience in the Flying Boomerangs program was pretty wicked. It took me to places I never thought I would be even on my first overseas trip. The program more importantly was about the people you meet and the friends you made – what I learnt on the program was more about my culture and what it takes to be an AFL player. This was my first real eye opener to AFL level, learning about diet, time management and recovery, the program really prepared me and opened my eyes to what was to come.  Looking back now it was my favourite out of all my footy programs I have been on.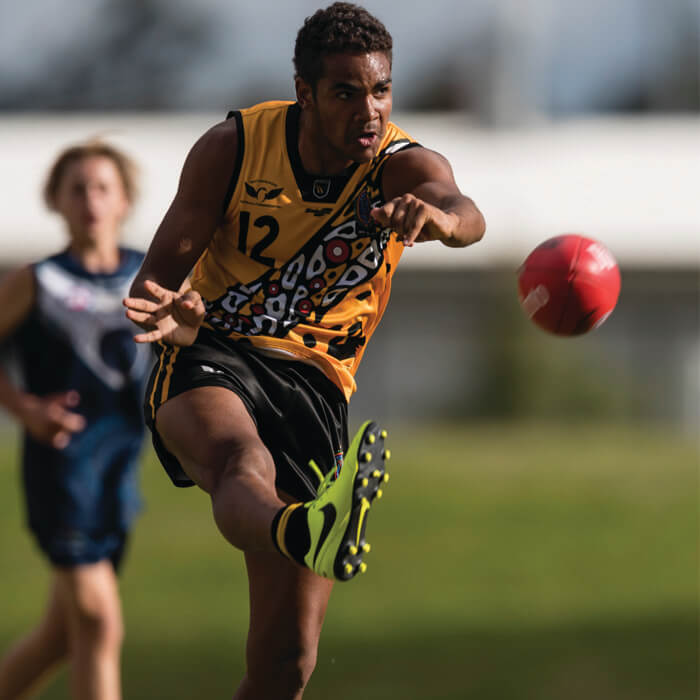 HOW CAN YOU BE INVOLVED?
The Flying Boomerangs program is our National AFL Male Indigenous program. Selection into this program is through the Male Kickstart Championships. Participants are required to compete with their state team at the championships to be eligible for selection in the Boomerangs program.
To find our how to be involved in your state Kickstart team please contact your state AFL Indigenous Programs manager.